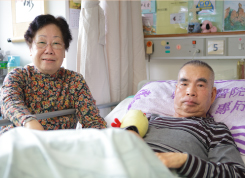 Uncle Biao actively participates in rehabilitative activities organized by volunteers of Patient Concern Services, which has led him a happier life.
It has been three years. But to Mrs. Lam, the hardships of her husband (Uncle Biao)'s early days in hospital still hits her like yesterday. That year, Uncle Biao had just retired from his job in the police force at the age of 72, and was about to embrace a new chapter in his life. As an energetic young man, Uncle Biao had always been a fond lover of martial arts especially Yong-chun. And as a retired old man, calligraphy and painting became the hobbies he turned to.
"Day and night, he just sat there and painted. Sometimes he was too focused that when he next stood up from his chair, it's already 7-8 hours later. The fact that he had a relatively high level of blood glucose, and that he really hadn't been exercising in a while, one day, he fell down. It just happened that way." Recollecting the early days following her husband's stroke, Mrs. Lam still has that lingering fear about the tense situation. Since the stroke had left Uncle Biao paralyzed on both feet and his partial brain function, the poor old man could neither walk nor eat. He had to stay in bed all time, which brought to him another problem of skin infection pressure sores, making care treatment extra difficult.
Fortunately, things began to fall into place as time passed. Now in his third year of stay in Tai Po Hospital, Uncle Biao's stroke recovery progress is positively hopeful. Not only can he move his left hand, he has also quitted milk diet and started observing a liquid diet with rice porridge among other choices. In addition, the frequent participation in HKRC's programmes and interaction with its volunteers has apparently made him more cheerful. "His will is strong and he means what he says. Now he can utter short single sentences, and when it comes to painting he becomes really excited."
Seeing his recent progress, the hospital has offered Uncle Biao the opportunity to learn to operate a wheelchair once a week. "License! I'm getting a wheelchair driving license!" sniggered Uncle Biao in his amusement. "Now you see. This has become his favourite time of the week." Mrs. Lam smiled contentedly as she continued. "Nothing touches me more than seeing him happy again. I'm really grateful. We haven't been so happy in a while."